Back
Best Sneakers to Wear with Jeans
Choosing a good outfit is an everyday dilemma for sneakerheads and the majority of people with new sneaker purchases. Most people would start asking themselves or maybe even search for answers on the internet with the question: "Which sneakers would fit my outfit best? How am I going to style my sneakers with different types of jeans?"
For the fashion-conscious, it's an easy question to answer yet a hard thing to do. Some people visualize their outfits for the day and end up hating the style they came up with when they try to look at the mirror.
Say goodbye to these dilemmas as this guide will provide the best sneakers to wear with different types of jeans. Some sneakers are so versatile so they may be worn with any type of jeans, while some may appear as a surprise choice due to their sophisticated style that fits the look so well. The article would tackle the best sneakers to wear with jeans for both men and women.
Let's take a look at some of the best sneakers to wear with jeans and see how they would look like as the article provides some pictures. Read through below and take the next step in fashion.
Best Sneakers to Wear with Jeans for Men: Low-cut Trainers (Gucci Ace, Common Projects Achilles Low, adidas Stan Smith)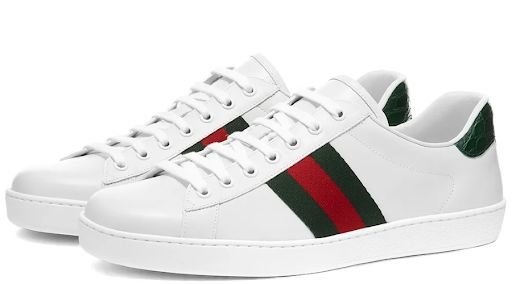 It's a tough choice, but any of these three sneakers would make a good pair to go along with most pairs of jeans. Their low-cut build would help reduce the problem of either showing or hiding the tongue inside the pants - and they're pretty stylish on most occasions too. These trainers are also sold with unisex sizing, making them good overall picks for both men and women.
There are many low-top trainers that usually look good with jeans, but this trio from three popular brands has one thing in common despite their expensive price tag - they're all minimalist sneakers that make the entire outfit stand out instead of solely relying on the sneaker to call an outfit "fire". These sneakers also work well with any type of jeans. Whether it's slim-fitted jeans or a regular fit, it doesn't matter. They are versatile for any fashion trend.
Starting off with the Gucci Ace, this shoe is the premier lifestyle shoe from the renowned Italian-based luxury fashion brand. Although some of its colorways appear with flashy designs and staple Gucci signature details, a clean and classic colorway such as the pair pictured above is enough to consider the shoe as a minimalist shoe. Introduced in 2016, the Gucci Ace instantly became a success and continued to become a popular model from the brand. It's one of the more premium sneakers that got rich sneakerheads and hypebeasts flexing their collection together with matching apparel.
It's also a popular choice among celebrities as some of them have been seen rocking a pair of the Gucci Ace with jeans. Check out the images below as celebs wear the Gucci Ace while wearing a pair of jeans.
Loading...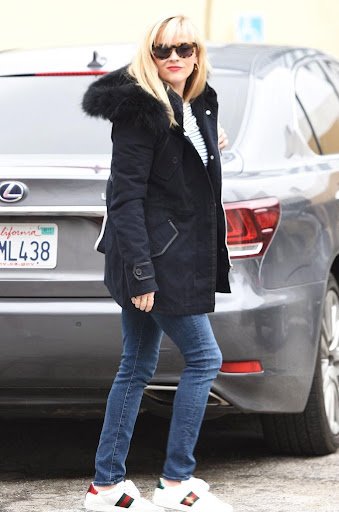 With a price tag that starts at $595, the Gucci Ace has released in a plethora of colorways and various versions that give people a lot of options to choose from depending on their preferred style.
The Red/Green stripe in a white premium leather upper remains to be the most popular among hypebeasts and celebrities alike. It has been a symbol of fame and wealth every time someone steps out in a pair of Gucci Ace sneakers.
Regular fit jeans also work wonders when worn with the Gucci Ace. Avid sneakerhead Justin Timberlake was pictured wearing the then newly-released luxury sneaker model in 2017.
Still coming in strong in the new decade, expect more from Gucci as they continue to release brand new colorways on the official website.
Loading...
Common Projects Achilles Low
Next up on the overall list of sneakers that look best with jeans is the ever-so minimalist Common Projects Achilles Low sneaker. It may have earned the ire of people who can't believe that an unbranded sneaker retails for around $500, but it has undeniably garnered enough attention to get a lot of people to wear a pair.
Arguably the most expensive basic sneaker of all time, the Common Projects Achilles features an Italian leather upper and a rubber outsole. Each sneaker is individually handcrafted in Italy. The most notable feature of the popular casual shoe is the gold-foiled style code on the lateral side of the shoe. It's the only label found on the shoe as there are no other logos nor branding on other parts of the shoe.
To be fair, any other similar-looking sneaker would probably be a good alternative for these $500 kicks. But it's too popular to take off the list, so instead let's take a look at how the Common Projects Achilles Low looks like when worn with jeans.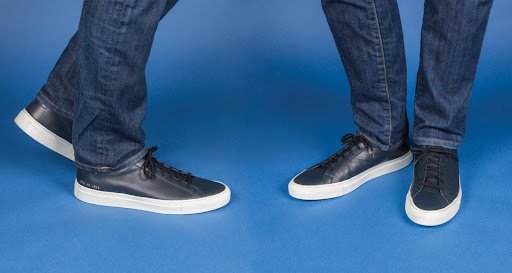 Just like pictured above, regular-fit jeans do work well with the unlabeled premium sneaker. Without any high-cut ankle collar to worry about, people can either hide the tongue of the shoe for a more laid-back style. It does hide the padded lining of the shoe though.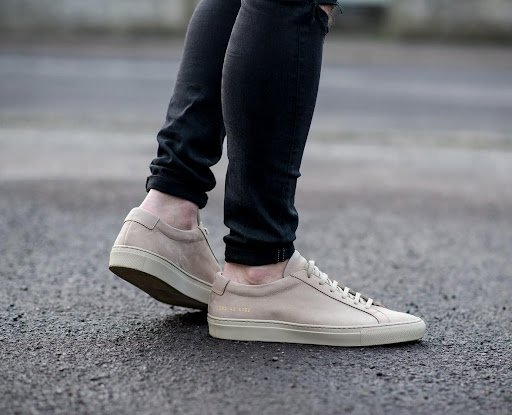 On the other hand, wearing tight-fitting jeans makes the shoe stand out. They can be worn with or without socks too, but remember to make sure that they're comfortable and have the right size to prevent blisters.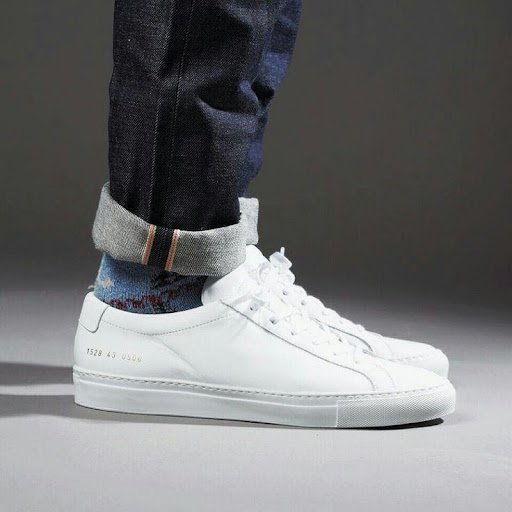 For a rather unconventional look, some people have worn the shoe with folded jeans - and to top it off, colored socks are added into the arsenal because why not. Doesn't matter what anyone else would say as long as the shoes make everything else look good.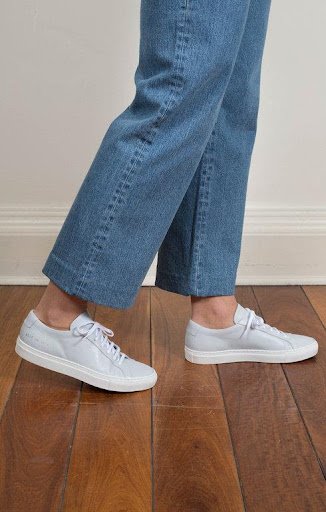 Even the ladies could wear the Achilles Low with baggy jeans and it would bring their style to the next level. The formal yet casual vibe of the shoe allows people to wear them for any occasion.
Adidas Stan Smith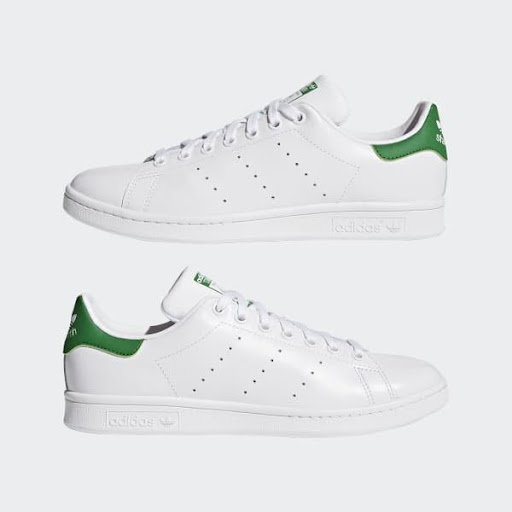 Can't seem to find a good reason to purchase the two expensive sneakers on top of this list? The adidas Stan Smith is here to solve everyone's casual shoe hunting. The adidas Stan Smiths can be purchased for less than a hundred dollars, and yet styling them with any type of jeans would make anyone look like a million bucks.
These classic adidas Originals sneaker was first introduced as a signature tennis trainer designed by French tennis star Robert Haillet in 1964. The Brand with the Three Stripes decided to go for a bigger, more iconic name in Stanley Smith and changed the name of the shoe to Stan Smith by 1978.
The adidas Stan Smith never looked back, and the rest is history. Now a minimalist adidas lifestyle shoe under adidas Originals, the Stan Smith stripped the iconic three stripes with perforations on the leather upper that resemble the brand's logo. A Stan Smith label can be seen on the tongue, while more adidas branding can be found on the midsole, outsole, and heel tab.
The most iconic colorway to ever release is the original White and Green combination. The Stan Smith was also subject to various versions and modernized renditions, but nothing would beat the clean and classic form of the OG.
Aside from the trendy adidas trackpants (especially the ones with the three stripes), wearing jeans work best with the adidas Stan Smith. It has that semi-formal and casual appeal that gives people an all-around sneaker. With sizes available for both ladies and gents, the Stan Smith is also available in a lot of colorways.
Regular jeans, slim-fitted jeans, or even cuffed-up jeans; the Stan Smith is a great and practical choice for those wanting a clean, minimalist sneaker. The adidas Stan Smith may actually be even better than most casual sneakers just because of its price point alone. Most people who purchased the shoe are extremely satisfied with the quality of the Stan Smith. A lot of colorways can be found below retail on the adidas website and with a full-size run. If there was one thing that adidas executed nearly perfectly, it would be keeping the simplicity of the Stan Smith throughout the years.
Loading...
Honorable Mention: Air Jordan 1 High OG Retro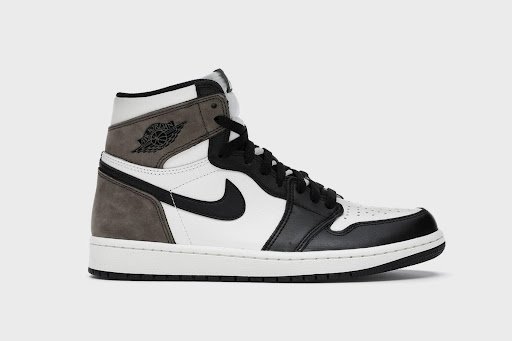 The Air Jordan Retros are so stylish that they somewhat, somehow always make it to various lists when talking about fashion. And without a doubt, the high-cut basketball shoe with the large iconic Nike Swoosh is undeniably one of the best sneakers to wear with jeans.
Introduced in 1985 as the first signature shoe for the one and only Michael Jordan, the Nike Air Jordan 1 blessed every generation of sneakerheads with a shoe that can be used for a lot of activities - even with its lack of tech and comfort when compared to today's standards. People have used the Air Jordan 1 for skateboarding because of its durable leather upper and thick rubber cupsole, while some have worn a pair for formal gatherings. The sneaker is a literal culture itself.
Air Jordan 1 with Regular Jeans
When it comes to styling the Air Jordan 1, people can have a lot of options. But certain types of jeans work best to keep the style top-notch.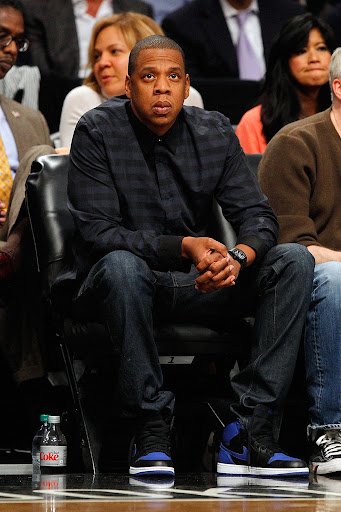 What makes the J1 easy to wear is the appealing aesthetic that captures a lot of people's attention. A plush ankle collar helps them to either slide the jeans inside the shoe or simply let it out for a more sophisticated, hipster-like look.
What makes the J1 easy to wear is the appealing aesthetic that captures a lot of people's attention. A plush ankle collar helps them to either slide the jeans inside the shoe or simply let it out for a more sophisticated, hipster-like look.
Even going back more than 30 years, the Air Jordan 1 has been styled with regular-fit jeans - because back then tight-fitting jeans weren't really popular.
Loading...
Air Jordan 1 High "Triple Black"
Cuffed-up or rolled-up jeans also look great with Air Jordan 1s because it makes the shoe look like a boot. Just choose a pleasing colorway to go along with the rest of the outfit and everything will be good to go.
The Air Jordan 1 High retails for about $170 on most colorways. They may be cheaper than some luxury brands but they are just as hard if not one of the hardest shoes to get because of their insane demand among consumers. Highly anticipated colorways release every year and can be purchased on the Nike SNKRS App or on select retail stores both on-site and online.
Popular Air Jordan 1 colorways currently aside from new releases are the OG colorways, Off-White collabs, and the extremely expensive collab with Parisian luxury fashion brand Dior in 2020.
Other notable sneakers to wear with jeans
-)Nike Air Force 1 Low
-)Nike Blazer Mid
-)Vans Old Skool
-)Converse Chuck Taylor
-)All-Star / Chuck 70
-)Nike Air Max 90
-)Adidas Superstar
-)Adidas NMD
-)Asics Gel Lyte III
-)Air Jordan 3
-)Air Jordan 11
-)New Balance 990x series
Conclusion
Everyone has different preferences when it comes to fashion. A style that is loved by many may not be appealing to some, so that's why a lot of people choose to keep things simple and minimalist. Luxury sneakers such as Gucci Ace and Common Projects Achilles Low have provided the consumers something that could keep the hype going. While other brands such as adidas and Nike have continued to release some budget sneakers as they shift their attention to their popular models.
One thing is for sure, relying solely on sneakers ain't going to cut it. It's better to wear something comfortable and something more practical to truly make the most out of every purchase.
---
Back