Back
Gone are the days when all that mattered is a sneaker's looks - most brands now also value the use of sustainable materials to craft their shoes. Fear not, because using recycled content doesn't make them less of a sneaker. They even help the farmers and factory workers stay away from toxic chemicals produced by plastics.
Sustainable sneakers are actually quite comfortable because they go through the same process just like every other sneaker, only with a few extra steps.
Now one of the trends among sportswear and streetwear brands, let's take a look at some of the pioneer companies that led the initiative before it was mainstream. The article will also discuss the best sneaker brands that utilize recyclable materials and eco-friendly resources that made their sneakers unique while saving the world from impending doom caused by climate change.
Veja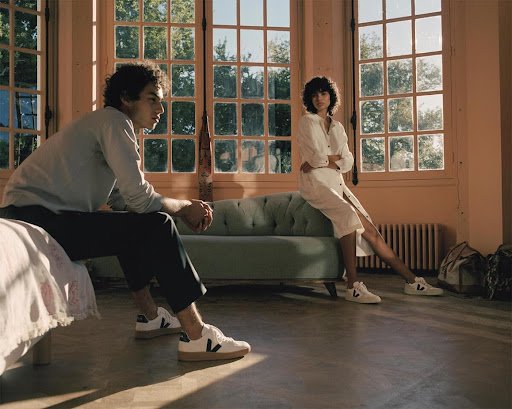 Veja is known for its consistent use of organic raw materials and recycled resources since its foundation in 2005.
Founders Sébastien Kopp and François-Ghislain Morillion seemed to discover the potential of plastic bottles and other sustainable supplies that the brand went on to create new kinds of fabric and rubber soles made from collected scrap found in the streets of Brazil's most populated cities.
Before the brand was officially launched, the two founders travelled to different clothing and food factories in South America, Asia, and Australia to learn more about their manufacturing process; it was Veja's main source of inspiration, amazed on how raw materials and plastics mix so well to create a new kind of upper material.
When it comes to producing sneakers and being socially responsible for the environment at the same time, Veja truly shines. The brand's organic cotton fabric is harvested by the local farmers from Brazil and Peru, to which Veja imports them.
The vegan Parisian brand's popular sneaker models such as the V-10 and V-12 were seen on the feet of female celebrities; Emma Watson, Meghan Markle, Emily Ratajkowski, and Chloe Grace Moretz are some of the most notable showbiz personalities to rock the sneaker brand with an awe-inspiring earth-friendly campaign.
Featuring recycled plastic bottles, cotton scraps, and polyester, the brand was able to invent new upper fabrics like the B-Mesh, Hexamesh, and the J-Mesh. Oh, and all sneakers are manufactured in the state of Rio Grande do Sul in Southern Brazil - ensuring top-notch quality that would impress curious customers.
Veja's signature detail is the cropped letter V that is placed on the sides.
More than 15 years later, Veja remains to be consistent in its campaign to continue using sustainable materials. They were already the leading sustainable sneaker brand before any other company decided to start incorporating recycled materials. Veja sneakers are priced at a minimum of $90. It may be a rather expensive retail price compared to other budget lifestyle sneakers, but premium quality and sustainability make the purchase worth it.
Loading...
Allbirds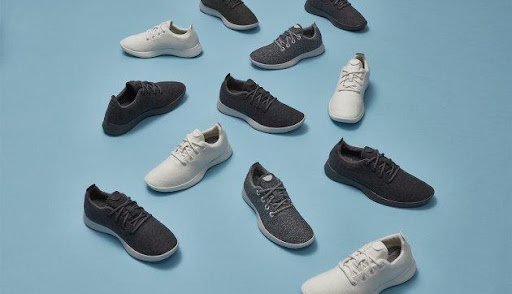 What started to be a "Eureka" moment to find a solution for uncomfortable leather shoes, Allbirds turned out to be much more than another aspiring start-up.
The tandem of then vice-captain of the New Zealand men's football team Tim Brown and biotech engineer Joey Zwillinger resulted in a $1.4 billion value just two years after Allbirds was formally launched.
Based in San Francisco, Allbirds took years of research before the brand finally found a breakthrough. With the help of New Zealand's wool industry and a Kickstarter fundraising, Allbirds introduced the Wool runner in 2016 - a clean lifestyle shoe that's made with engineered wool with the help of top ethical fiber brand ZQ Merino.
While they may look like any other minimal lifestyle shoe with knitted uppers, Allbirds sneakers are all made in New Zealand and do not use synthetics. Instead, recycled bottles and recycled cardboards are given a whole new identity as laces and shoe packaging, respectively.
Aside from the Merino Wool, the brand invented a new sole unit called Sweetfoam and is made out of sugarcane and the world's first carbon-negative green EVA. The Sweetfoam was launched in 2018 and has been a staple sole unit for Allbirds. And even then, the sugarcanes are sourced from farms and ensures protection to the people and the environment around them.
2018 also saw the arrival of the Tree Runners, which utilize eucalyptus tree fibers to produce the mesh upper. In comparison to the Wool Runners, the former is more breathable, while the latter is more cozy and good for the cold weather. They're both comfortable though, the insoles made with castor bean oil provide that step-in comfort that wearers look for when first trying on a sneaker.
With a starting retail price of $95 each for both the Wool and Tree sneakers, Allbirds has built an eco-friendly empire that follows ethical practices to the highest standard. The Wool Runners were even hailed as the most comfortable shoes ever, but as the brand continues to expand and develop, maybe one of their newest models will take the place of the former.
The brand remains to be one of the most popular sustainable sneaker brands because of their high-quality sneakers and transparency to the community. Despite only being five years old since launch, the San Francisco-based footwear line definitely deserved that billion-dollar value in 2018.
Better watch out for them and their upcoming sneakers, they have so much more in store with their wool and eucalyptus fibers.
Loading...
Adidas x Parley
Adidas x Parley Ultraboost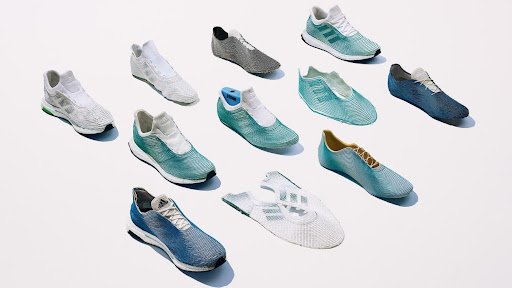 Focused on mitigating the plastics in the ocean that damage aquatic life, Parley For The Oceans teamed up with the Three Stripes for one of the most popular collaborations between a top sports brand and an environmental organization.
The partnership between Parley For The Oceans and Adidas was announced on Earth Day 2015. The two brands shared a vision to reduce marine plastic waste by using the collected materials and recycling them into a combination of yarn and filament that make up the Adidas sneaker's upper.
Parley's idea was presented to the United Nations in the same year and has continued to fight for marine life. The campaign did not only focus on collecting garbage on the oceans, Parley also fought off illegal poaching vessels that drop gillnets in unmonitored waters. It was a success as Parley and fellow marine conservation organization Sea Shepherd caught the notorious 'Bandit 6' in 2016.
Sea Shepherd Captain Siddarth Chakravarty introduced a new life for the gillnets. The first Adidas x Parley prototype sneaker was made in collaboration with Sea Shepherd, green chemist John Warner, and designer Alexander Taylor.
The prototype used the Adidas Ultraboost as the base, while the gillnets were turned into yarn that covered the entire upper of the shoe. A full-length Boost midsole remains unchanged and provides superior impact protection.
As the partnership continues to grow, and with more challenges to combat ocean pollution, Adidas and Parley continued to work together as Adidas replaces the use of virgin polyester with recycled plastic bottles.
It is worth noting that most of the plastic bottles weren't collected from the ocean. They are sorted out and intercepted before they reach any aquatic bodies.
Loading...
Adidas Ultraboost X and Adidas Ultraboost 3.0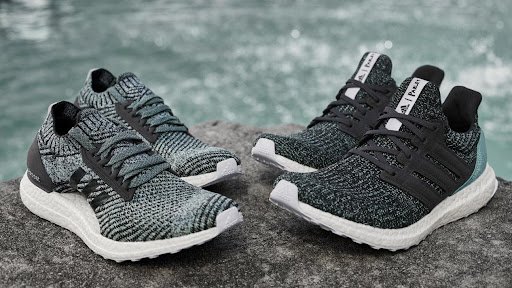 More popular Adidas sneaker models such as the latter versions of the OG Ultraboost, the NMD_CS1, and the EQT Support are just some of the brand's main offerings that got the recycled Parley treatment. And though they weren't hyped because of other sneaker models, it's all for a good cause.
Adidas x Parley Ultraboost models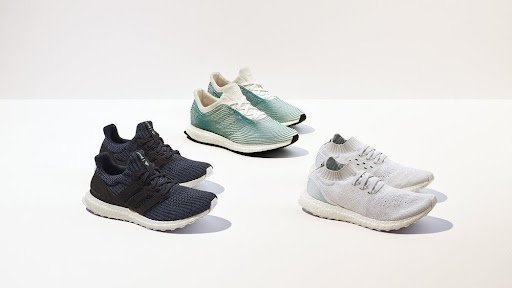 Just recently, Adidas started their own initiative and launched two new performance upper fabrics for their sneakers: Primeblue and Primegreen. The Primeblue is the brand's performance fabric that contains Parley Ocean Plastic, while the latter is another similar fabric that contains no newly created plastic (also referred to as virgin plastic). Most Adidas sneakers now use either the Primeblue and Primegreen fabric and can be seen on iconic Three Stripes models like the Stan Smith. Though there's more work to be done, Parley For The Oceans and Adidas never ceases to find new solutions to mitigate and prevent further damage to the oceans and the creatures who live in them.
At the same time, more Adidas sneaker models will continue to appear in sustainable materials, not for the sake of the trend, but for the betterment of the future and the way sneakers are made.
Honorable Mention: Nike Sustainability - Move to Zero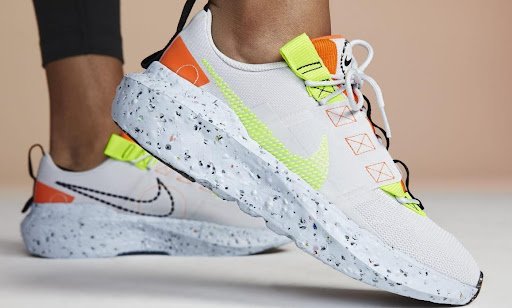 Nike's Move to Zero campaign is the brand's own initiative to slowly move towards zero carbon and zero waste products that seemed to be more of a marketing gesture. Nevertheless, a lot of new and classic Nike sneaker models were actually manufactured with recycled materials from scraps taken from other existing Nike sneakers.
Though still far from the zero percent target that the brand is aiming for, Nike has created the Crater Foam, which is a new kind of midsole that is soft and is a mix of waste and other foam scraps. On the outsole, Nike features what they call Nike Grind. In most of Nike's footwear catalog, they claim that the sneakers contain at least 25% recycled content by weight.
Check more of the Swoosh's updated sustainable materials:
Flyleather
Aside from the Flyknit that is said to contain 6-7 plastic bottles, Nike introduced what they call Flyleather, produced by binding 50% recycled leather fibers with synthetic fibers to lessen waste consumption.
Nike Air
Nike's Air technology has gone through a lot of retooling and remodeling that made it last this long. However, the usage of plastic bags that are filled with Nike's 'Air' could be a waste pollution problem. That's why the brand finally stepped up to make new Air units with 50% recycled waste, while the majority of the new Air units come from scrapped materials when manufacturing existing Air soles.
Nike Space Hippie Collection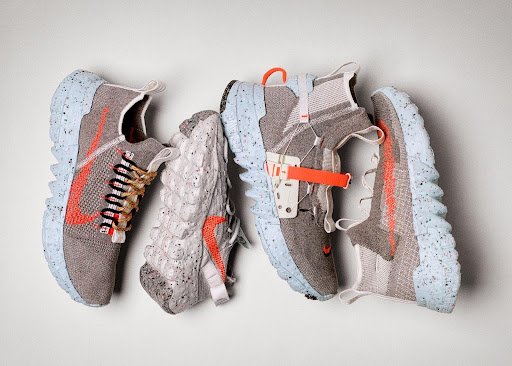 Other renewable resources used by Nike are recycled polyester, sustainable cotton, and recycled nylon.
Popular Air Max models such as the Nike Air Vapormax, Air Max 90, Air Max 95, Air Max Plus, and more, have been reintroduced with sustainable fabrics.
In 2020, Nike unveiled the Nike Space Hippie. A new footwear line dedicated to push the brand's campaign by releasing four sneaker models made with factory scraps.
The sneakers feature 'Space Waste Yarn', which are yarns made with 100% recycled content - including recycled plastic bottles, T-shirts, and yarn scraps. On the midsole, Nike's Crater Foam and Grind Rubber make up the soft and durable platform. It's accompanied by a recycled ZoomX foam which is Nike's top-tier cushioning system seen on their top running shoes.
Nike Cosmic Unity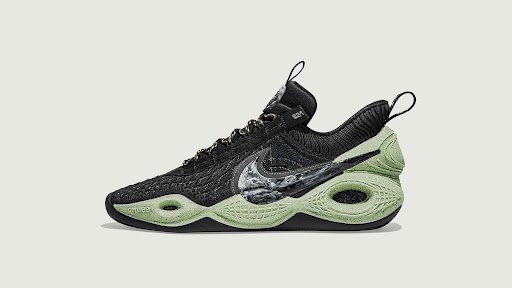 Come 2021, Nike then released the Nike Cosmic Unity. The brand's first ever performance shoe that contains at least 25% recycled content by weight.
The low-top basketball shoe featured Crater Foam, recycled sockliner, recycled cable yarn for the upper, and a full-length Zoom Air strobel that's suited for the fast-paced game of basketball.
With a hefty price tag of $150, the Nike Cosmic Unity is just one of Nike's space-themed sneakers that also utilize recycled materials. It's a first for the brand, but it definitely won't be the last as it continues to push the Move to Zero campaign and hope to at least fulfill half of what they promised when they launched the plan.
Conclusion
The sustainable sneaker trend definitely blew up in the past couple of years. While brands who first started the initiative continue to do well, some brands look to try their hardest to at least reverse the damage done by producing millions or even billions of plastic wastes for their products.
There's Veja and Allbirds who both entered the footwear with a mission, and there's Adidas who teamed up with Parley to protect the oceans. Whatever the cause may be, these sustainable sneaker brands deserve recognition and appreciation for the effort they display.
Rest assured, any challenges they face won't hinder these brands to manufacture sneakers through ethical standards and with eco-friendly resources.
---
Back