We independently review everything we recommend. When you buy through our links, we may earn a commission. Learn more
Understanding Yeezys and their impact in streetwear culture.
Kanye West has been one of the most influential artists that showcased creativity through his music, sneakers, and apparel collections.
By Editorial Team
Last Updated : Nov 01, 2021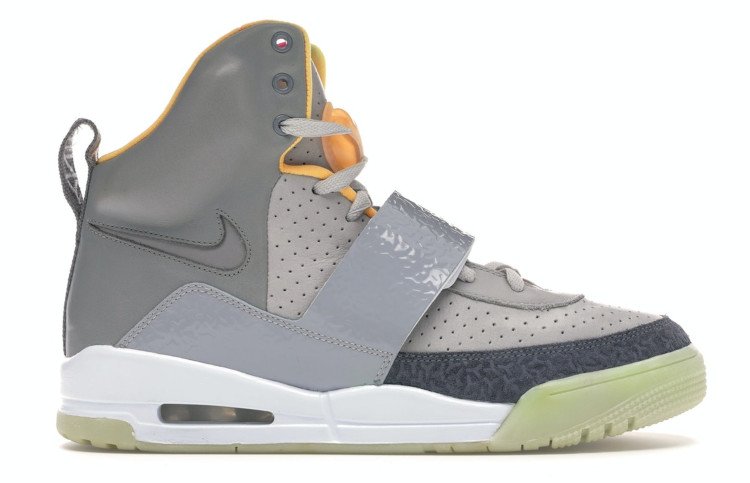 Yeezy's are collectible sneakers holding value
Despite his multiple controversies, the Yeezys cemented its place as one of the staple sneakers that earned a massive following from fans and sneakerheads.
The Nike Air Yeezys were among the most expensive sneakers to ever see resale due to its limited quantity - 5,000 pairs were released for each of the two colorways of the Air Yeezy II in 2012. The Solar Red and Pure Platinum colorways were so iconic that NikeiD, (Now called Nike By You) features customizable palettes that utilize the colors used on Kanye's most famous Nike sneakers.
With his transition to Adidas in 2013, the Yeezy wave was only getting started. The debut of the Adidas Yeezy Boosts in 2015 turned out to be highly-coveted as much as if not more than the Nike Air Yeezys.
A couple of years and Adidas Yeezy releases later, Ye continues to break standards and catch people's attention with his latest Yeezy sneakers. This complete guide looks to tackle every single colorway of his sneakers, from both Nike and Adidas, as a way to take a trip down memory lane and reminisce the sneaker's longevity in the hype culture.
Kanye and the breakout of the Nike Air Yeezys
Kanye has been notable in the sneaker industry for designing and collaborating with different brands such as Bape, Reebok, and early samples with Nike and Jordan Brand. His sneakers that were released were in scarce numbers, while some of his rare samples were extremely limited. Then in 2009, the Nike Air Yeezy was born. In the same year, Louis Vuitton released their own Kanye West sneaker collaborations too. But since the LVs were too expensive, compared to the Air Yeezy 1's retail price of $215 - the Nikes grabbed more attention.
The Nike Air Yeezys were actually in the development process since 2017, and together with Nike's Senior Creative Director Mark Smith and Creative Director Nathan Van Hook, the first Air Yeezys underwent a lot of redesigning and revisions to fully bring out its fashion potential. The shoe took its inspiration from various iconic Nike sneakers like the Air Jordans 3, 6, and the Air Tech Challenge II. Its high-collar ankle also brings a more unique look as the shiny strap stuns with the "Y" graphics.
The Zen Grey colorway is the first Nike Air Yeezy 1 to hit retail in April 4, 2009.
The shoe saw a lot of hype and attention to the point that sneakerheads who wanted to cop had camped out near the sneaker stores to secure a pair. A month later, the Black/Pink or also called "Blink" colorway, released and caught even more hype as the Air Yeezy mania was in full swing.
The Blink Yeezy 1s were one of the most iconic Yeezy colorways and inspired the Yeezy 2 Solar Red to sport the same black and pink accents to show off its texture and shiny upper.
Nike Air Yeezy 1 is a versatile premium sneaker as it borrows the same tech utilized on Nike performance footwear, the most notable is the Air Jordan 3's sole that features a visible Air unit in the heel. No wonder some athletes showed up in shootarounds wearing Yeezys.
Most sneaker collectors visit eBay to snag some limited sneakers. The Yeezys' resale price went on for above $1,000 on deadstock pairs.
The Net/Tan colorway was the last Air Yeezy 1 to hit retail, and its tan leather upper created another wave of sneakerheads and collectors who are vying for a pair.
Each colorway highlighted a completely different persona that sets itself apart from one another. The various change of textures and style made the shoe one of the most coveted in the fashion and sneaker industry.
But there are some similar features used throughout the three Air Yeezy 1s - the outsole, which predominantly glows in the dark, inspired by his Glow in the Dark Tour in 2008, the other is the "Y" graphic print seen on the toe rand of the Tan and Zen Grey; then the majority of Blink's upper.
Kanye's trifecta of Nike sneakers that released in 2009 was the start of the Air Yeezys' short but successful run with the Swoosh. The hyped sneakers are still pursued in sneaker reselling sites. The current resale average for a single colorway runs for about $2,749 minimum. Just imagine how much the unreleased samples would go for if somebody got a hold of them.
Nike Air Yeezy 1 Zen Grey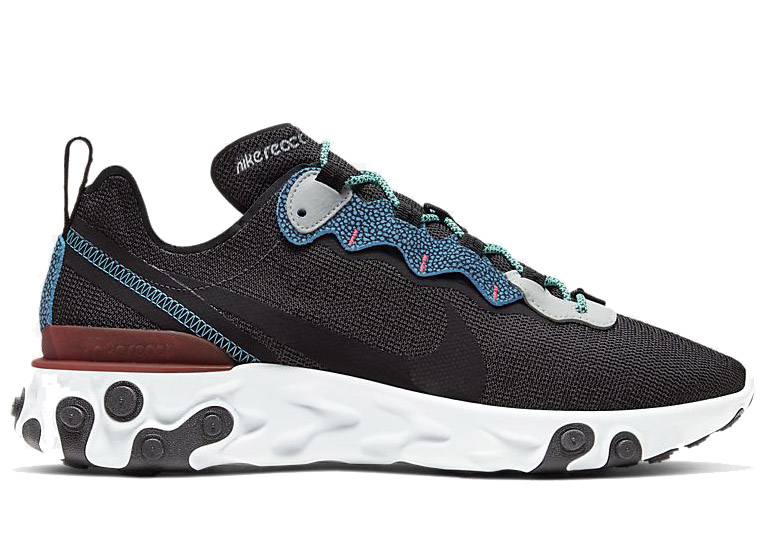 Nike Air Yeezy 1 Blink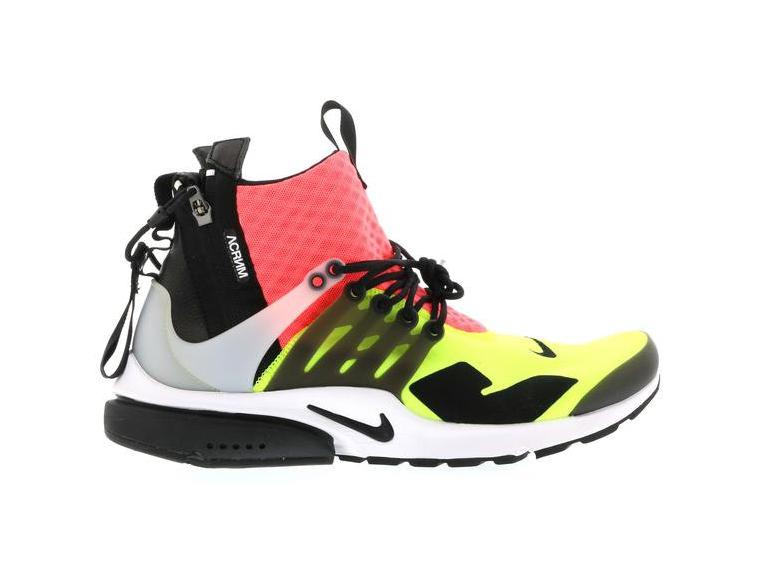 Nike Air Yeezy 2 // Pinnacle of a Yeezy Sneaker
After the massive success and media attention that the first Air Yeezy got, Nike and Kanye surely had something in store for the sneaker world. And so they did, this time taking inspiration from one of the most iconic tennis and cross-training shoe that is the Nike Air Tech Challenge II.
Again going through rigorous changes and a long development process, the Nike Air Yeezy 2 is probably worth the wait and worth the hype with its stunning visuals and cross-training potential. Several athletes were seen wearing the shoe during practices and pre-game warmups. Unreleased colorways showed up on the internet again as the sneakerheads prepare for the Yeezy frenzy.
It features a reptile-like upper, most notably on the quarter panel and the spiky heel. It's made with a Hand-skived Anaconda leather upper with a debossed Nike Swoosh to flex the brand's premium craftsmanship. The rest of the front panel flaunts a breathable mesh upper for a lightweight feel. A rubber Velcro strap on the midfoot is placed for a more secure fit. The entire sole is borrowed from the Nike Air Tech Challenge 2, which features a visible Air unit in the heel and a herringbone traction pattern that also glows in the dark.
Shortly after its release, the two colorways' resell values quickly rose to a minimum of $4,000 on sneaker reselling sites.
The success of the release has been widely recognized by the sneaker community - even considered to be a sneaker grail by hypebeasts and some collectors.
The current resale value for the two colorways is still in a respectable range, with the Pure Platinum averaging a $5,823 resale price at the time of posting. While the Solar Red averages for $5,405.
Due to its limited quantity, the Nike Air Yeezy 2 isn't going to plunge in value anytime soon - more so because Kanye has left Nike for another prominent brand.
The first two colorways, Pure Platinum and Solar Red, released last June 9, 2012, for $245 - a rather great investment as the first Yeezys' resale price inflated to thousands of dollars. The shoe has been considered as one of the if not the most anticipated sneaker releases in history during its time. 5000 pairs of each colorway have released for sneakerheads to try and purchase.
Nike Air Yeezy 1 Net Tan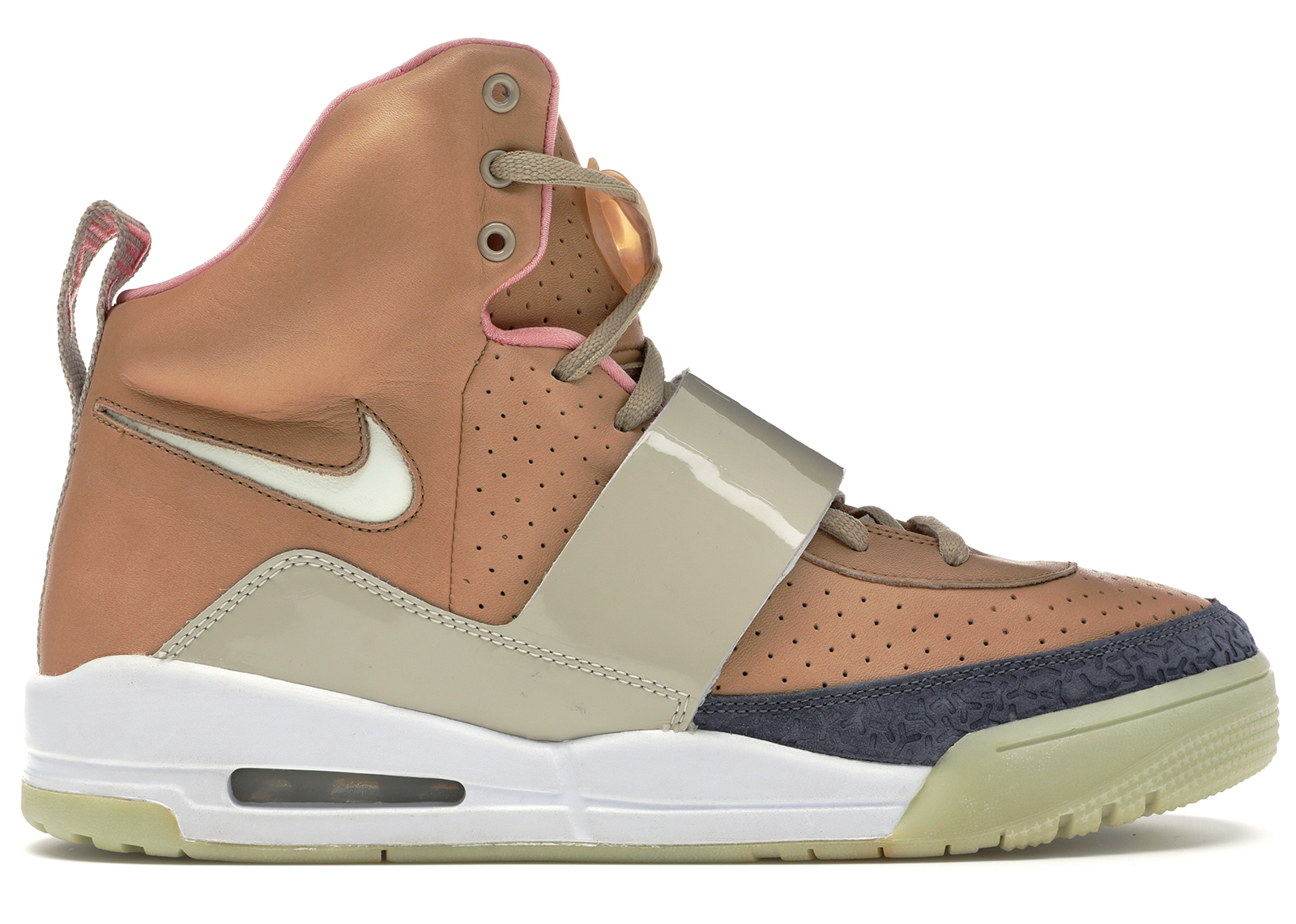 Nike Air Yeezy 2 Pure Platinum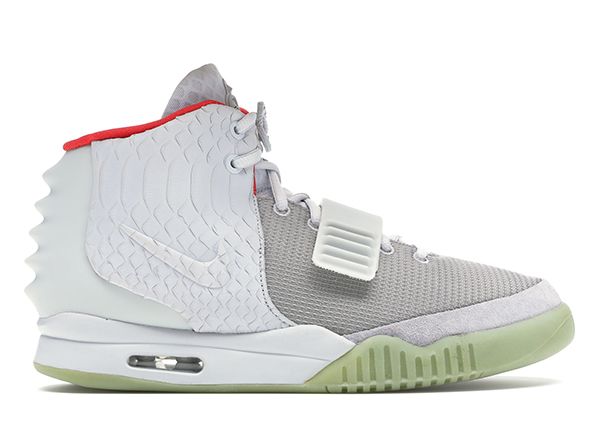 Nike Air Yeezy 2 Solar Red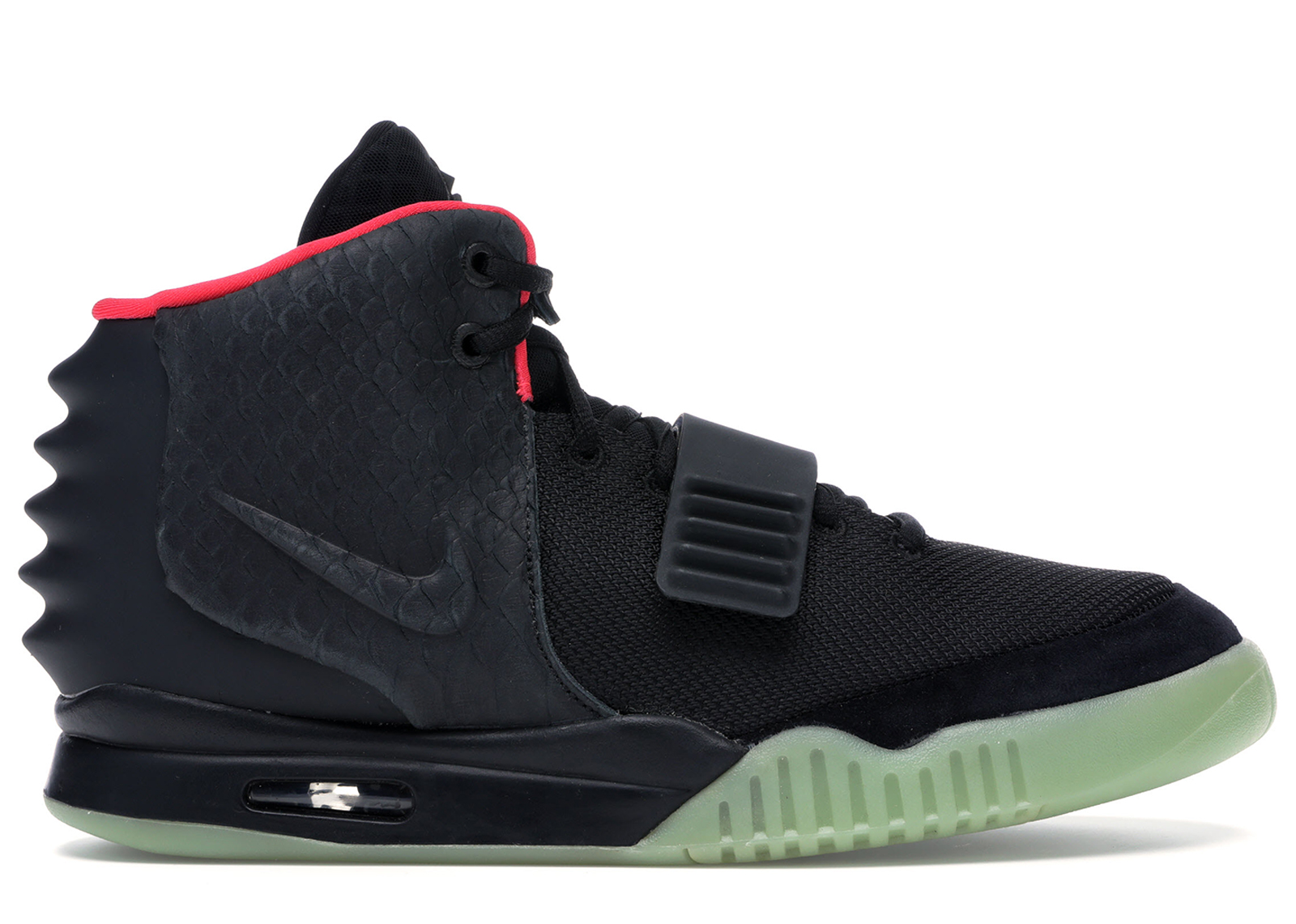 The Surprise Release
Two Yeezy 2 colorways have been released on the same day, yet it made people wonder - will there be a third colorway? Kanye has already joined Adidas in 2013, but people were still looking for a certain colorway - something much more iconic and more hyped compared to the Platinum and Solar Red combined. Nearly two years after the first colorways hit retailers, a third and final colorway has released out of nowhere - The Red Octobers.
After years of rumors and anticipation, the Red Octobers finally debuted last February 2019 on Nike Store through a Tweet that instantly disappeared - the same way the sneakers disappeared on the site because all pairs sold out within seconds.
It features an all-red pair with a spike-textured quarter panel and a diamond-like Swoosh - two designs weren't seen on the 2012 colorways; only 400 pairs were released, that's why its hype was justified. It was restocked unexpectedly after a couple of years, but its resale value and significance in sneaker history never dropped.
Nike Air Yeezy 2 Red October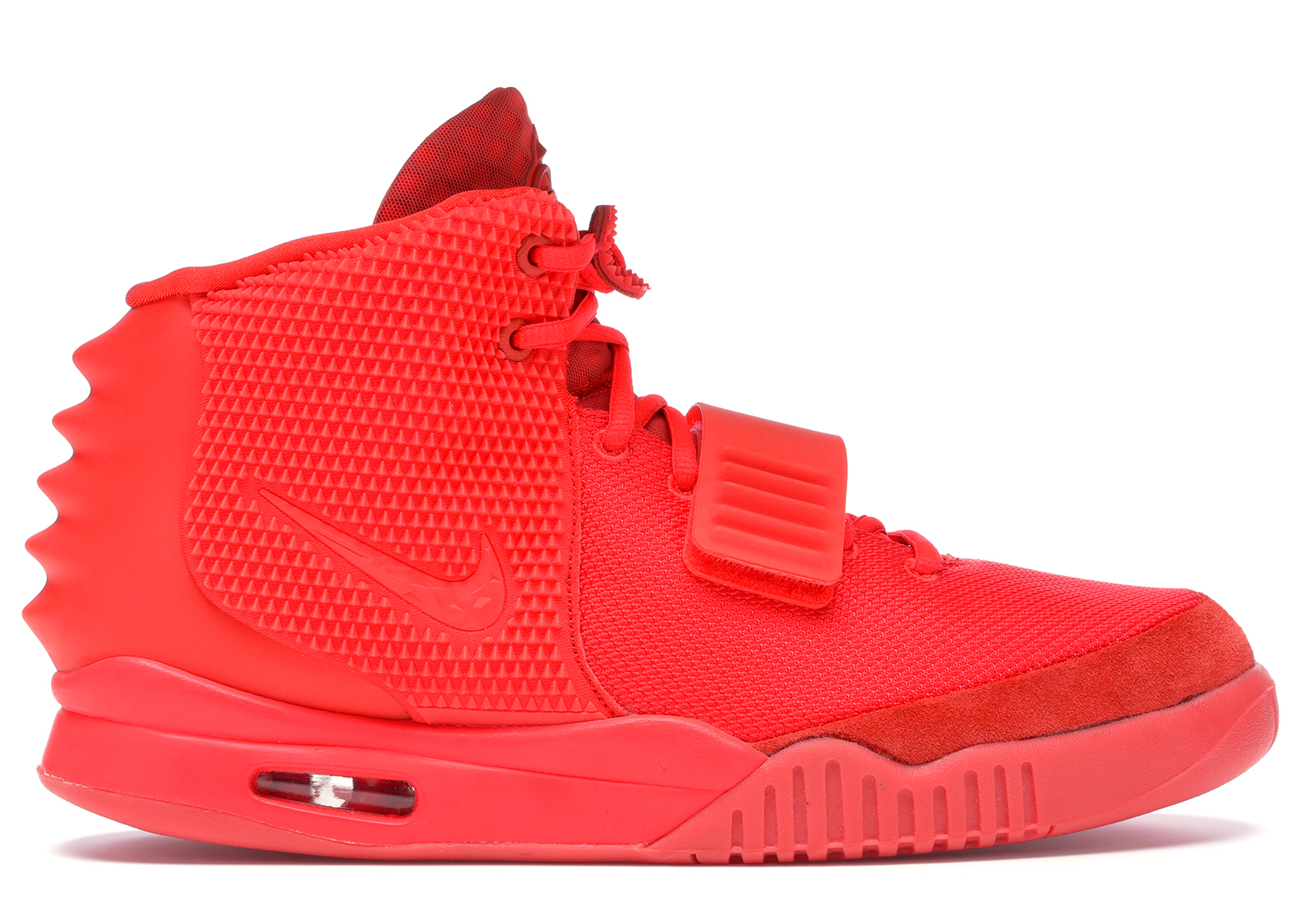 The Birth of the Adidas Yeezy Boosts
After Kanye and Nike's breakup in 2013 caused by the latter not willing to pay Ye his royalties for his sneaker designs, Kanye reached out to Adidas for a new partnership that led to a new exclusive sneaker and apparel line.
In 2015, the Yeezy Season 1 was officially announced and released. The first shoe to release was the Yeezy Boost 750 last February 14, 2015. It features a grey suede upper with a high-top build. Its minimal aesthetic is made unique by a midfoot strap and a thick white midsole that houses a full-length Boost foam cushioning. Its comfortable Boost cushion gave Kanye West the complacency to say that the Yeezy Boost 750 can be worn for basketball. But in typical Kanye fashion, controversies surrounded the shoe's debut due to its defective zippers.
It may have been resolved for future releases, but another Yeezy shoe stood out for the rest of Yeezy Season 1 - the Yeezy Boost 350. It sports a soft and comfortable Primeknit weave upper with a unique two-tone pattern that is padded on the inside for better fit and durability. Its sock-like opening is aided by the laces that run from the midfoot to the tongue. A heel tab adds more details, while a YZY label on the medial side cements Kanye's iconic masterpiece. The white ribbed midsole encases a full-length Boost foam cushioning for a completely comfy ride from top to bottom.
Dubbed as the Turtle Doves, it paved the way for more unique and fresh-looking colorways of the Yeezy Boost 350, as opposed to the minimalist and straightforward aesthetic of the 750 Boosts.
The Yeezy 350 Boost colorways released in various tonal accents for a simple yet stylish look that was enamored by the sneaker and fashion industry. Its impeccable comfort appeared to have stolen the spotlight from one of Nike's most famous lifestyle models during its time - the Roshe Run. Both sneakers were compared due to their low-top build - the only difference is the Yeezy Boost 350's costly price tag.
More Yeezy Boost 750s and 350s have released throughout Yeezy Season 1 from 2015-2016:
adidas Yeezy Boost 350 Oxford Tan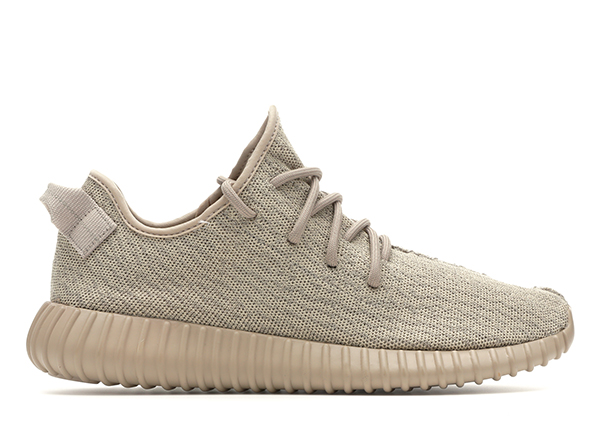 adidas Yeezy Boost 700 Carbon Blue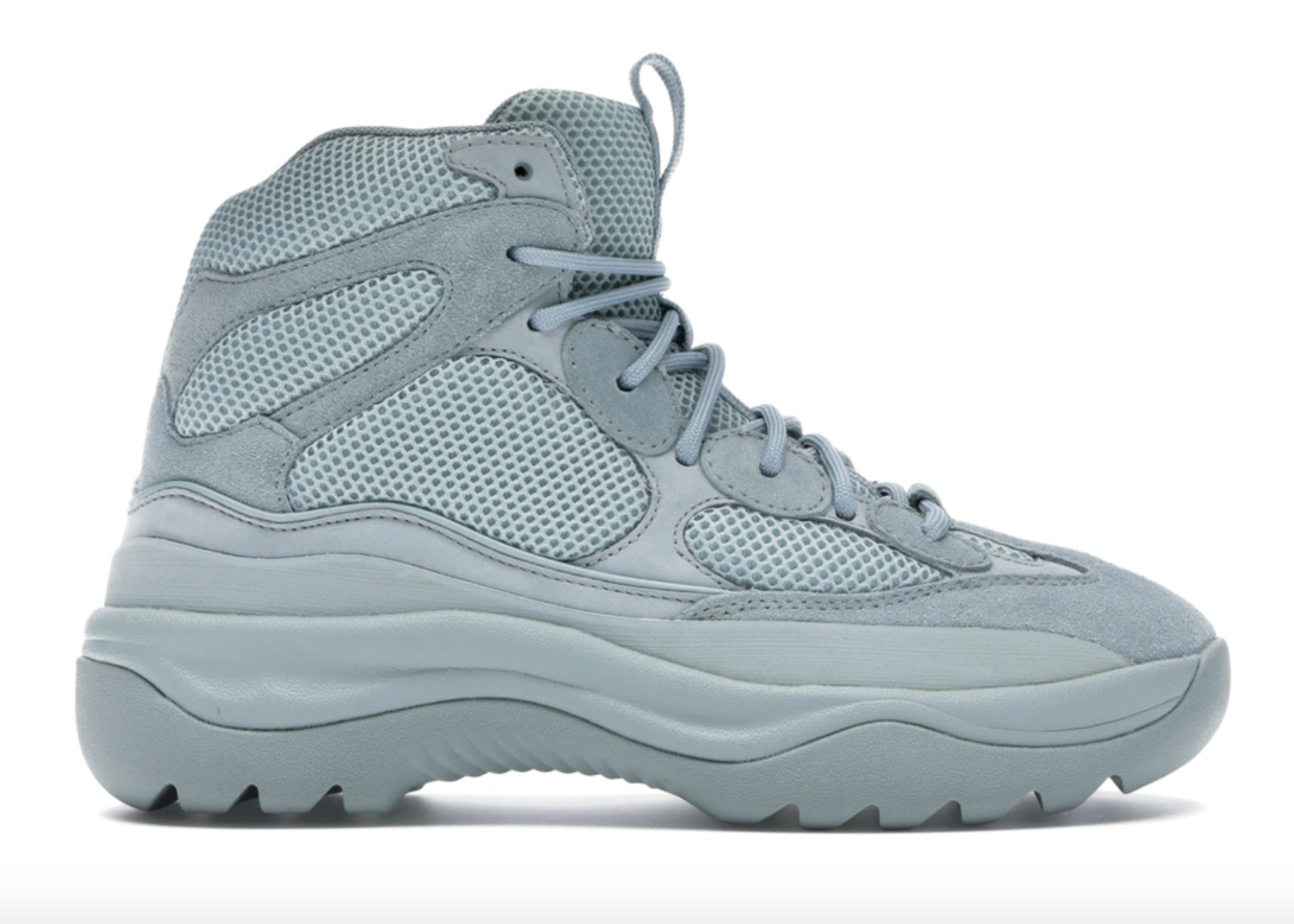 adidas Yeezy Boost 350 Pirate Black (2015)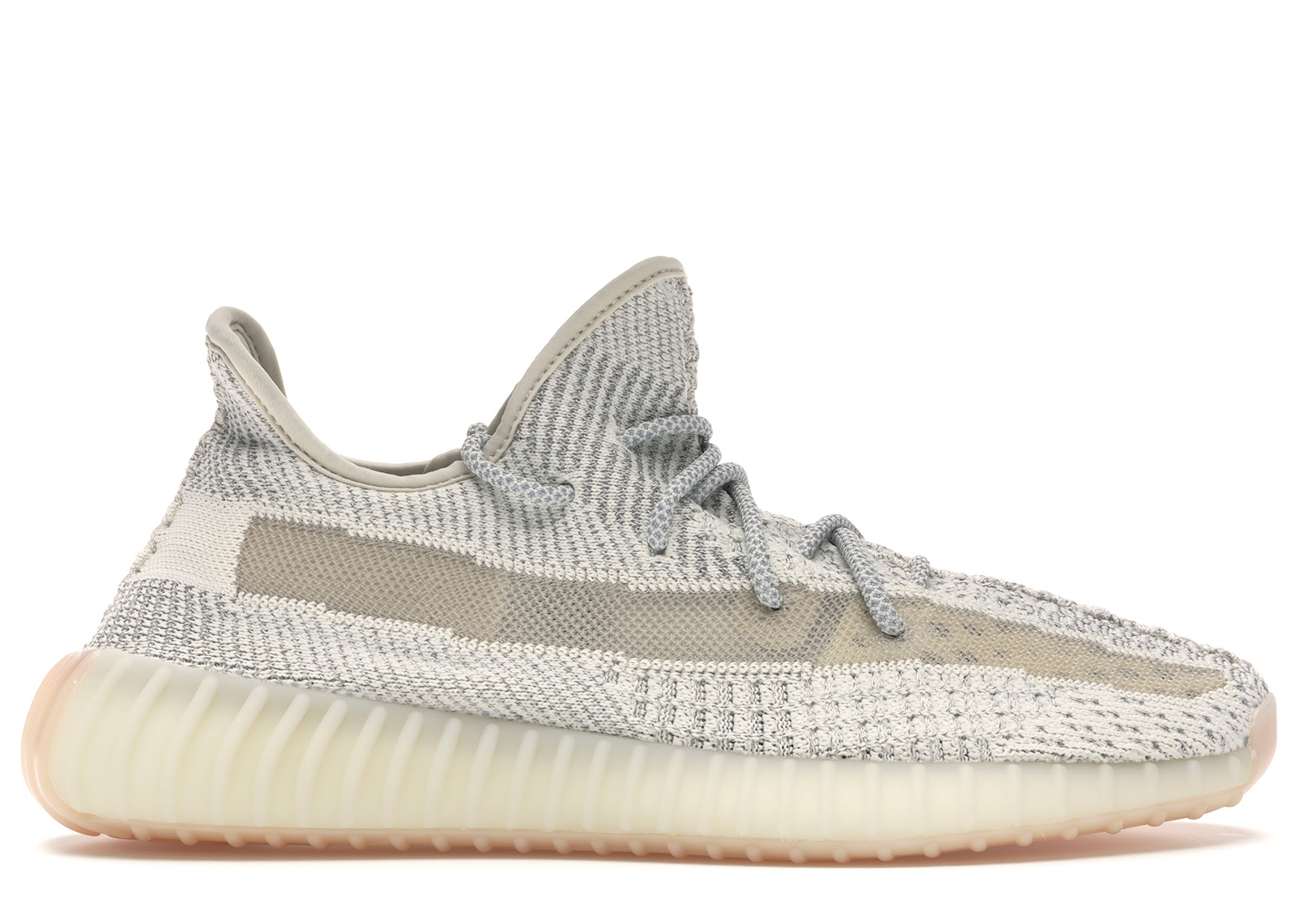 Yeezy Boost 350 V1:
Yeezy Boost 350 V1 Pirate Black - August 2015 - Another famous Yeezy 350 that sports an all-black Primeknit weave with a subtle red line on the heel tab. It restocked a couple of months later and sold out as usual.
Yeezy Boost 350 V1 Moonrock - November 2015 - Spearheaded one of the earthly tonal colorways of the V1, in a subtle light grey and dark grey combination.
Yeezy Boost 350 V1 Oxford Tan - December 2015 - Similar earth tones with the Moonrock, except it's more on a brownish accent rather than grey.
Yeezy Boost 350 V1 Cleat "Turtle Dove" - September 2016 - Yeezy took the sneaker world by storm - and apparently it made its way to the NFL where it got banned due to uniform policy violation.
Adidas Yeezy 950 Boot- Four colorways of the 950s released in October 2015, it didn't get much hype compared to the Yeezy Boosts - probably because of its $585 price tag and it doesn't have Boost cushioning.
Yeezy 950 Boot Peyote, Moonrock, Pirate Black, Chocolate - October 2015
The 350 V2
More Yeezy Boost 750s and 350s have released throughout Yeezy Season 1 from 2015-2016:
The first batch of 350s probably jumpstarted the rise of Adidas Yeezys, but the arrival of the next versions took the Yeezy Boosts to another level when it featured an improved, more comfortable upper that still kept the shoe looking fresh and stylish on whatever outfit sneakerheads can think of. The Yeezy Boost 350 V2 retailed for $220 - slightly higher than the first version.
The first colorway dubbed 'Beluga' sports a grey and dark grey hue with slight yarns of orange that form a curved stripe pattern, and strategically placed on the reinforced panels. An orange streak that runs from the heel to the toebox on the lateral side is labeled with a "SPLY - 350" mark that adds a unique detail to the shoe's visuals. A semi-translucent grey ribbed midsole houses a thick full-length Boost midsole to level up the comfort and impact protection.
In November 2016, three colorways released on Black Friday and caused a crazy waiting line in stores, and a server crash in online retailers. All colorways featured a black base with different streaks on the lateral side that gave them their names. The Copper, Green, and Red colorways are now some of the highly sought-after Yeezy Boosts due to their rarity.
The Yeezy Boost 350 V2s are still arriving in brand new colorways that feature various accents and Primeknit weaves that give every colorway a unique look. It's hard to count them all but continue reading to check every single colorway that was released.
Yeezy Boost 350 V2 Colorways:
Yeezy Boost 350 V2 Core Black/White - December 2016 - Sports a black Primeknit base and a white streak on the mid panel to spell out the SPLY-350 label.
Yeezy Boost 350 V2 Core Black/Red - February 2017 - An all-black Primeknit upper with a reversed SPLY-350 label in red. It's one of the famous colorways due to its unique look.
Yeezy Boost 350 V2 Zebra - February 2017 - True to its given name, the colorway is dressed in black and white Primeknit stripes and another reversed SPLY-350 label in red.
Yeezy Boost 350 V2 Triple White - April 2017 - Everything in white. Like the famous Ultraboosts, enough said.
Yeezy Boost 350 V2 Semi Frozen Yellow - November 2017 - A neon green upper with black stripes and a red reversed SPLY-350 label. The ribbed midsole features a semi-translucent neon green rubber and a gum outsole rubber stands out among the rest.
Yeezy Boost 350 V2 Beluga 2.0 - November 2017 - Takes every detail from the Beluga, but with the absence of orange hints.
Yeezy Boost 350 V2 Blue Tint - December 2017 - Combines a grey and icy blue Primeknit upper with a red SPLY-350 label.
Yeezy Boost 350 V2 Butter - June 2018 - Soft yellow hues and a butterscotch-like outsole accent made the Butter 350 V2s a great lifestyle pickup.
Yeezy Boost 350 V2 Sesame - November 2018 - Another neutral accent that features a neutral grey upper and a gum rubber outsole.
Yeezy Boost 350 V2 Static - December 2018 - Features a transparent stripe which is a new look to the V2s. Two versions released, a reflective and a non-reflective.
Yeezy Boost 350 V2 Hyperspace - March 2019 - Dressed in a light grey upper and a translucent streak.
Yeezy Boost 350 V2 Trfrm - March 2019 - Combines a grey upper with light orange accents for a soft pastel look.
Yeezy Boost 350 V2 Clay - March 2019 - Earthly tones that is mostly comprised with a sunset orange hue and a translucent stripe.
Yeezy Boost 350 V2 Glow - May 2019 - Sports a bright green on all of its parts, the 350 V2 Glow also features a glowing midsole for an eye-catching look.
Yeezy Boost 350 V2 Black - June 2019 - With a reflective and non-reflective version, these V2S are similar to the Pirate Black V1s.
Yeezy Boost 350 V2 Summer Exclusives - June and July 2019 - Exclusive colorways released for the summer, colorways Antlia, Synth, and Lundmark all arrived without a heel tab - first for a Yeezy 350 V2.
Yeezy Boost 350 V2 Cloud - September 2019 - Taking its name from its cloud-like hues in a grey and white combination.
Yeezy Boost 350 V2 Citrin - September 2019 - Sports a gum outsole above a light pink/ sail Primeknit upper.
Yeezy Boost 350 V2 Yeezreel - December 2019 - Similar to the Glow but in a lighter fashion, comes in a reflective and non-reflective colorway.
Yeezy Boost 350 V2 Yecheil - December 2019 - Another biblical-named colorway released, this time in a black, red, yellow, and blue combination where the black dominates the entire base of the upper.
Yeezy Boost 350 V2 Yeshaya - January 2020 - The first Yeezy to release for 2020, the Yeshaya colorway is another biblical inspiration which means "God is Salvation" in Hebrew. It features a white and grey Primeknit upper and a light gum rubber outsole.
Yeezy Boost 350 V2 Marsh - February 2020 - Literally took its color inspiration from a marsh, the Marsh 350 V2s sport a yellow green upper with brown and grey accents for a literal earthly tone.
Yeezy Boost 350 V2 Regional Exclusives - February 2020 - Three special colorways released in exclusive areas around the world; Tail Light released in Europe, Russia, and Ukraine. Flax for Asia Pacific, Africa, the Middle East, and India. While the Earth colorway was exclusive for North America and Latin America.
Yeezy Boost 350 V2Desert Sage - March 2020 - A barrage of earthly-toned colorways have released throughout the year. This time in a grey and orange combination.
Yeezy Boost 350 V2 Cinder - March 2020 - It's basically a stealth colorway with earth accents on the outsole. A blacked-out Primeknit upper makes up the majority of the sneaker while a brown outsole completes the bottom.
Yeezy Boost 350 V2Linen - April 2020 - Ready for the calm spring season, it sports a yellowish tan upper and grey lining and stripe for a unique look.
Yeezy Boost 350 V2 Sulfur - May 2020 - A US-exclusive Yeezy that was made available only on the Adidas app and Yeezy Supply, it sports another natural accent in an olive Primeknit upper and gum rubber outsole.
Yeezy Boost 350 V2 Zyon - July 2020 - A two-tone Primeknit upper steals the show as the black, grey, brown, and sail color accents makes up the most of the shoe.
Yeezy Boost 350 V2 Israfil - August 2020 - Named after an Islamic angel, the Israfil Yeezy V2 sports an earthly tone just like always. Featuring tan and grey, the shoe faced backlash due to its nickname.
Yeezy Boost 350 V2 Asriel/Carbon - October 2020 - Forced to change the name to Carbon due to backlash, the shoe features a black and grey upper and a semi translucent midsole together with a yellowish outsole.
Yeezy Boost 350 V2 Natural - October 2020 - Staying true to its namesake, the shoe features a yellowish/creamy white accent that blends well for its color.
Yeezy Boost 350 V2 Fade - November 2020 - Nearing the end of the year, another neutral tone colorway arrives in a brown and navy blue upper. The semi-translucent upper is in light brown too so the shoe looks stylish with any outfit.
Yeezy Boost 350 V2 Sand Taupe - December 2020 - Yeezy went out with another bang in a virus-filled year, as the Sand Taupe colorway released a week before Christmas. It features what seems to be a combination of the Earth and Clay colorways combined into one. The orange makes up the top panels while the brown Primeknit weave finishes the bottom. Another gum-colored outsole completes the shoe.
Yeezy Boost 350 V2 Ash Blue - February 2021 - Another year, another Yeezy. This time it features a blue and grey upper with a yellow side stripe that changes the whole aesthetic of the shoe.
Yeezy Boost 350 V2 Ash Stone - February 2021 - In an opposite showcase of colors, the Ash Stone released in a white, brown and grey Primeknit weave and accompanied by a red side stripe. A dark outsole completes another natural-toned Yeezy for 2021.
Yeezy Boost 350 V2 Ash Pearl - February 2021 - A mixture of light and natural tones, the Ash Pearl is comprised of a tan and light brown top panel, while a dark blue and grey weave completes the bottom panel. It sits atop a semi-translucent midsole and another light gum outsole.
The next Yeezy Boost 350 V2s are scheduled at a later date. The Mono Pack is slated for a release starting from June.
More Adidas Yeezy Shoe Variations
Just in case people haven't gotten enough of the Yeezy 350s, more Yeezy sneakers arrived throughout the decade and went on to make a name for themselves.
Yeezy Boost 700
What seems to be Yeezy's "dad shoe" version, the Yeezy Boost 700 has gotten enough success to currently have 3 versions of the shoe. The very first 700 features mesh, suede, leather, and nubuck overlays for a reinforced low-top sneaker. A full-length drop-in Boost midsole adds to its total comfort. It debuted last 2017 for a price tag of $300, much more expensive than the 350s. An exclusive but more affordable Yeezy Boost 700 MNVN uses the 700's sole while it showcases a "700" print on the upper.
Yeezy Boost 700
What seems to be Yeezy's "dad shoe" version, the Yeezy Boost 700 has gotten enough success to currently have 3 versions of the shoe. The very first 700 features mesh, suede, leather, and nubuck overlays for a reinforced low-top sneaker. A full-length drop-in Boost midsole adds to its total comfort. It debuted last 2017 for a price tag of $300, much more expensive than the 350s. An exclusive but more affordable Yeezy Boost 700 MNVN uses the 700's sole while it showcases a "700" print on the upper.
Yeezy Boost 700 V2
The next version toned it down a little and went for a leather, knit, and nubuck overlay that features a reflective upper. A drop-in Boost midsole again returns for a comfy ride.
Yeezy 700 V3
The third Yeezy 700 toned it down even more as an engineered mesh is reinforced only with a Rigid Polyurethane (RPU) that looks like an exoskeleton of the shoe. It also got rid of the Boost midsole and utilized an EVA (Ethyl Vinyl Acetate) midsole that houses polyurethane.
Yeezy 500
Another premium lifestyle Yeezy that utilized an old Adidas cushioning system, the Yeezy 500 features cow suede, mesh, and premium leather to make up the upper overlays. The midsole is an FYW (Feet You Wear) visual and uses an adiPRENE+ cushion. It was released last 2018 for $200 and has a high-cut counterpart that features a more padded collar for a better fit.
Yeezy Boost 380
Appearing to be an improved 350, the Yeezy Boost 380 uses similar tooling while making itself unique. Featuring a multi-layered Primeknit, the midfoot is composed of various round translucent monofilament windows for a well-ventilated feeling. Its sock-like upper adds more comfort as the footbed sits above the full-length Boost midsole encased in a semi-translucent midsole. A herringbone traction pattern with visible Boost windows makes the shoe a great option for anyone who wants to try something not named 350.
It has released in various colorways and retailed for $230. While most pairs may be sold out, sneakerheads can check online reselling sites to purchase available sizes.
Adidas YZY QNTM
Athletes have always been seen rocking Yeezys, so Kanye West and Adidas decided to enter the basketball world with the YZY QNTM (Yeezy Quantum). Featuring a jacquard knit underlay and wrapped with a thin RPU cage for stability and upper reinforcement, the YZY QNTM high-top basketball shoe also features synthetic suede layers for added durability. A reflective heel cup almost got the shoe banned by the NBA, but reports didn't push through. A full-length Boost midsole is encaged with semi-translucent TPU to prevent any instability issues while running and jumping. A wide herringbone traction pattern provides solid grip on indoor and outdoor courts.
Retailing for $250, the YZY QNTM is one of the more premium basketball shoes that also has a lifestyle version.
Adidas Yeezy Powerphase Calabasas
A short-lived but impactful lifestyle shoe that brought back an old Adidas model Powerphase into a Yeezy-branded model with Calabasas labeling. Its materials vary from suede and leather and became one of the hyped sneakers due to its affordable price at $120.
Yeezy 450
One of the latest models in the Yeezy sneaker line for 2021, the Yeezy 450 is another unique-looking sneaker that features a spiky sole that runs all over the knitted sock-like upper and holds it like a claw. It retails for $200.
Yeezy FOAM RUNNER
Another new offering from Kanye, the FOAM RUNNER is Adidas' attempt at a slip-on that is made with harvested algae and EVA to produce a rather weird-looking clog. It's one of the widely affordable Yeezys in recent years at about $75. Its hole on the upper is reminiscent of other brands' clogs that feature a holed-up foam upper for ventilation and comfort.
Conclusion
Nearing a decade since Kanye joined the Three Stripes, every Yeezy sneaker has left its mark among the sneakerheads and collectors as one of the innovative sneaker lines that utilized various materials and inspiration to come up with a brand new product that can entice the consumers to purchase.
Kanye undeniably made an impact on music and fashion, and when it comes to his shoes, there's no denying the fact that some celebrities aspire to be just like him, just like Ye.
The future looks bright for Adidas and the Yeezy line, there may have been controversies every now and then, but the reputation and success of the Adidas Yeezys will never be tarnished in sneaker history.
Nike Air Yeezy 1 Net Tan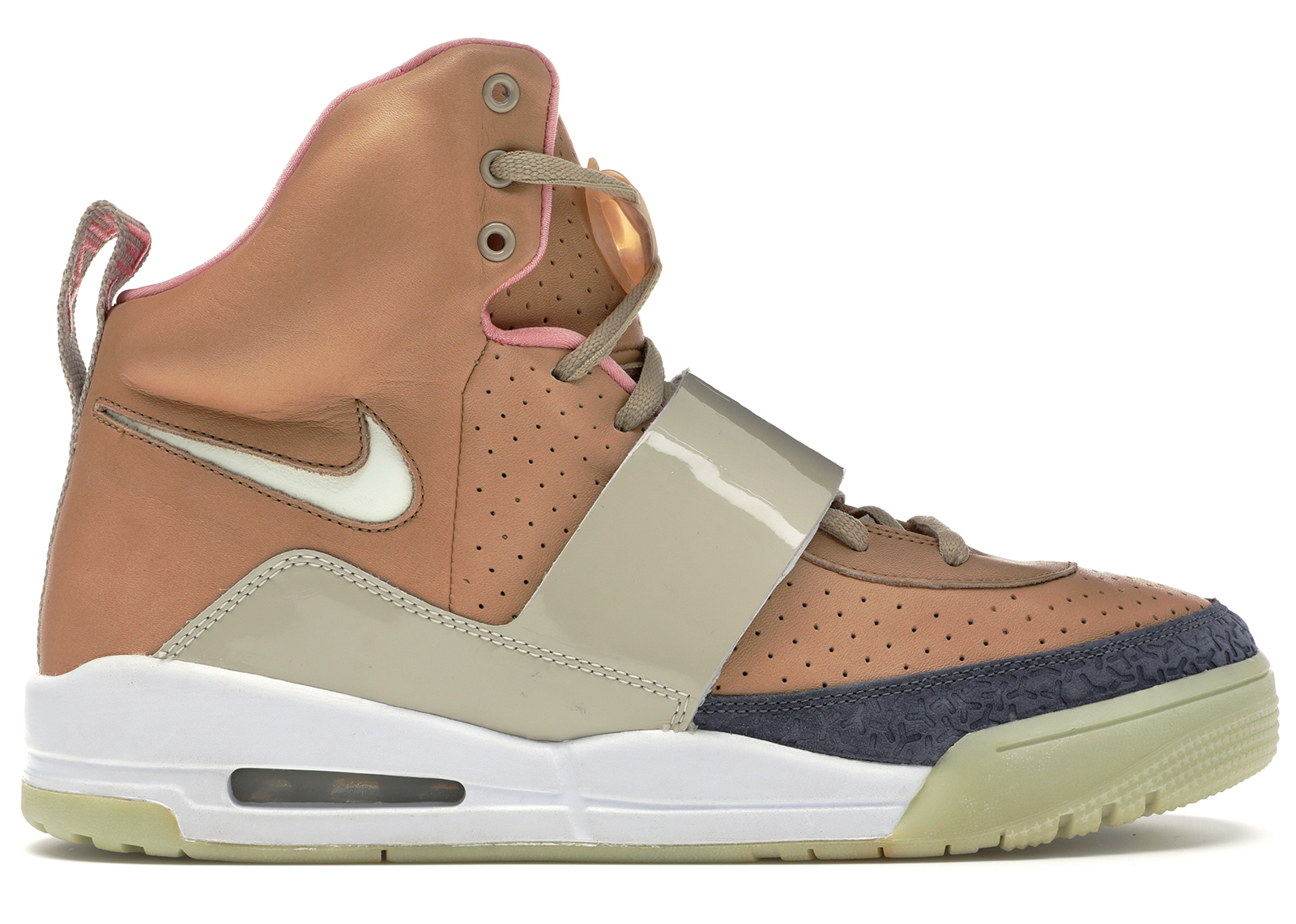 Nike Air Yeezy 2 Pure Platinum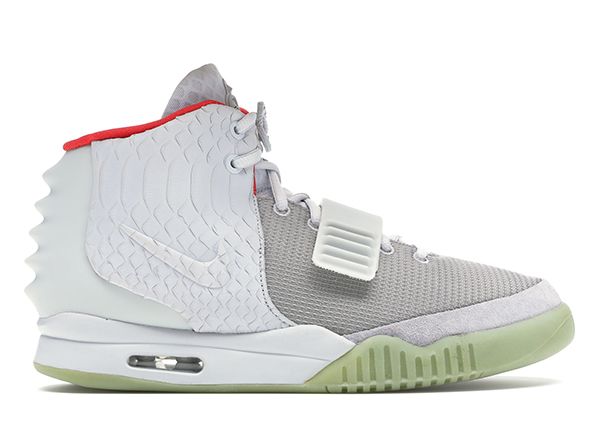 Nike Air Yeezy 2 Solar Red